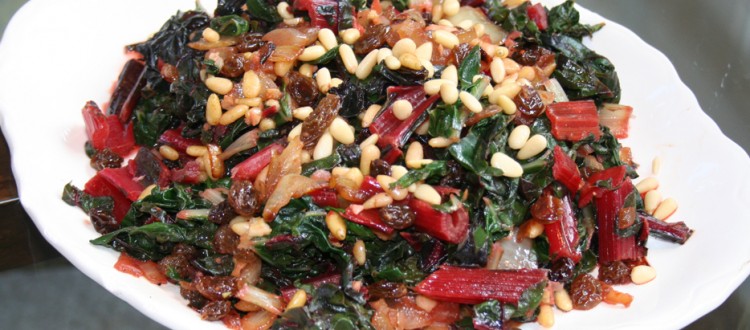 Sicilian Style Swiss Chard
INGREDIENTS
Nut Mixture:
2 tablespoons extra-virgin olive oil
2 medium shallots (or 1 small onion), thinly sliced
1-2 garlic cloves, minced
Pinch of red pepper flakes  
1/3 cup pine nuts
1/3 cup golden raisins
Greens:
1 lb. Swiss chard
2 tablespoons extra-virgin olive oil, plus more for drizzling
1 tablespoon unsalted butter (optional)
Juice of 1/2 lemon (1 to 2 tablespoons)
Coarse salt and freshly ground pepper
METHOD
Prepare the chard. Remove stems from chard. Wash leaves and stems carefully by immersing them in cold water and triple rinsing them to be sure all grit has been removed. Slice greens crosswise into 1-inch-wide strips. Slice stems into 1-inch pieces.
Heat 2 tablespoons olive oil in a large skillet over medium heat. Cook shallots until crispy brown (about 3 minutes). Reduce heat slightly and add garlic and red pepper flakes until fragrant but not brown, about 2 minutes, stirring frequently. Add nuts and raisins and cook, stirring, until fragrant and raisins have softened, about 2 minutes more have a peek at this website. Remove mixture from pan; set aside.
Heat 2 tablespoons olive oil in same skillet. Stir in the chard stems and cook for 1 minute. Add greens one handful at a time, stirring to wilt slightly before adding more, then cook until wilted and tender, 3 to 5 minutes. Add butter (optional) and stir until melted and combined. Squeeze lemon juice over greens and season with salt and pepper.
Return nut mixture to pan and stir into greens, then drizzle with a little olive oil, if desired, and serve immediately. Serve alone or over rice, pasta, or couscous. Or, top the greens with a smoky grilled salmon filet, and you have a gourmet meal fit for a queen!
SOURCE: Recipe adapted from Martha Stewart's Cooking School by Martha Stewart