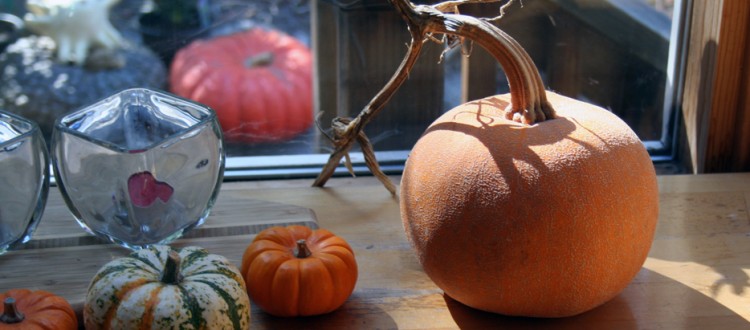 I woke up in the night and listened to the rain falling on my roof, feeling thankful that not only the tarragon in my garden, but all of nature was getting a wonderfully long drink and a bath after so many moons!
And what could be cozier than baking on the first cool, fall morning to the blissful patter of rain? I decided to pick two of my favorite pumpkins from my garden to make pumpkin purée and bake a couple of pumpkin pies for my family for a taste off!
Winter Luxury Pumpkin
If you purchased and planted some Winter Luxury starts this past spring, you probably have some pumpkins ready to be harvested from your own garden! This is one of my all-time favorite pie pumpkins. My husband, Basil, rates Winter Luxury a 5 out of 5 for best taste and texture. It's one of the best tasting pie pumpkins you can grow  — it has a very sweet taste and a smooth, velvety texture. It's a small pumpkin (about 6 lbs.) and has a distinctive white netting on its skin.
Rouge Vif D'Etampes (AKA Cinderella Pumpkin)
Another favorite pumpkin for pies is the Rouge Vif D'Etampes. This bright, orangey-red French heirloom variety harkens back to the Pilgrim days and is thought to be the pumpkin that was cultivated and served at the second Thanksgiving. You'll recognize this variety when you see it — it resembles the squat pumpkin that Cinderella's godmother magically transformed into a carriage. The flesh has a smooth, silky texture similar to canned pumpkin. I rated the texture a 5 out of 5, and a 4.5 for taste. Basil rated both the texture and taste a 4.
Homemade Filling Vs. Canned Pumpkin Pie Filling
One advantage of canned pumpkin is that it has a more predictable texture, taste, and moisture content. This is important when you're baking a pie filling! When you make your own pumpkin purée, you'll need to determine how "wet" the pumpkin flesh is and most likely will have to remove excess moisture from the purée. Allow at least an hour or two to drain the purée. You may also need to adjust the sweetness in your recipe to the variety of squash you are using. Most recipes for pumpkin pie, bread, muffins and other dishes are based on the drier moisture content of canned pumpkins — so keep this in mind when you make your own pumpkin purée.
RECIPES: How to Make Pumpkin Purée, Sarah's Pumpkin Pie, Pumpkin Pie Spice Blend, Savory Pumpkin Flan