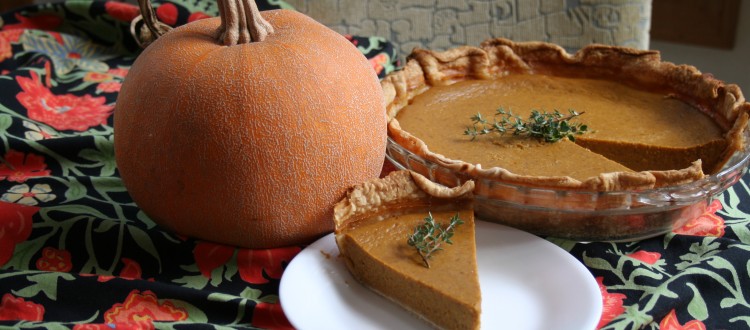 This recipe is my variation on Libby's famous pumpkin pie. The recipe makes two 9-inch pumpkin pies.
INGREDIENTS
3/4 cup sugar
3/4 cup brown sugar
1/2 teaspoon salt
1 tablespoon cinnamon (or two heaping teaspoons)
1 teaspoon ground ginger
1 1/2 teaspoons fresh ginger, finely grated
1/4 teaspoon ground cloves
1/4 teaspoon ground allspice
1/4 teaspoon freshly grated nutmeg
4 large eggs
1 large can (29 oz) pumpkin
2-3 tablespoons dark rum (my secret ingredient, optional)
2 cans (12 oz) evaporated milk
2 unbaked 9-inch pie shells
METHOD
Preheat oven to 425°F.
In a small bowl, combine sugar, salt, and spices; set aside.
In large mixing bowl, using low setting of mixer (or by hand), beat eggs. Then, add pumpkin, sugar mixture, and rum mix until combined well. By hand, gradually stir in evaporated milk by hand.
Place pies in preheated oven and bake for for 15 minutes. Then, reduce heat to 350° and continue baking 45-60 minutes or until a sharp knife inserted near center comes out clean. (It will set even if it seems not quite done.)
Watch that your crust doesn't get too brown. Sometimes I reduce the heat to 340-345° in order to protect the crust, or use foil strips on the crust which is a pain. But no pain, no gain!
Cool pies for 2 hours. Serve immediately or refrigerate. Pies can be unrefrigerated for up to 24 hours, if weather is cool.
YIELD: Two 9-inch pumpkin pies